Enables low-cost, loss-free production through centralized
management and information sharing
Our production management system, with a solid track record at Busyu Kogyo's manufacturing site, has been moved to the cloud.
Only the features you need, now available via the cloud. Software that enables precise management within your company and
speedy collaboration with partners through information sharing.

Enables "management on the shop floor"
The software systematizes "desired features" and "required features" based on real-world experience.
It enables real-time management of the production site via input of information that tracks the actual movement of people, goods, and money.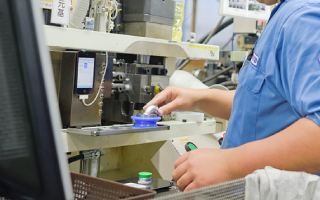 Handles high-mix, low-volume production
The system provides a flexible solution to the inventory management and cost issues associated with high-mix, low-volume production. Inspired by retail POS systems, it tracks the actual day-to-day inventories of products, parts, and work-in-progress goods.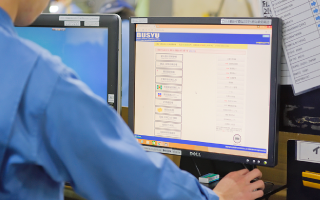 Sharing and efficiency in the cloud
The system organizes functions such as production results management, work-in-progress management, equipment operating performance management, and workforce management into modules, so that you use only the features you need. It lets you manage more efficiently by sharing information with partner companies in the cloud, and by collaborating on distribution, purchasing, and other tasks.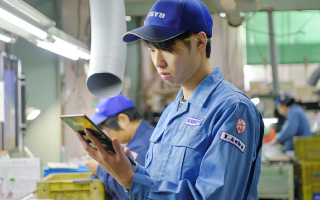 Project-related companies
Amazon Web Services
AWS offers broad and deep core cloud infrastructure services designed to improve operational efficiency and developer productivity. Designed to meet the most stringent requirements, AWS supports the diverse workloads of more than 1 million active customers in 190 countries.
Star Micronics Co., Ltd.
Star Micronics provides battery-less wireless sensors that let you monitor production status in real time. They specialize in electromagnetic technology applications and the development of compact vibration-powered generators. Their sensors let you implement an IoT system simply by installing small modules in the tools and jigs used in existing manual processes.
CF-K
CF-K Co., Ltd., which moves systems to the cloud by linking sensors in an IoT array, is a company in the IoT sector that provides one-stop solutions ranging from hardware (including circuit and mechanical design) to the build-out of infrastructure and cloud-based systems.
Contact us by phone
Busyu Kogyo Co., Ltd.

0428-31-0167
Headquarters Plant: 1-2-3 Suehiro-cho, Ome City, Tokyo
Contact: Mr. Machida, Administration Division