Growing our greatest asset:
Our customers' trust
Our Quality Assurance Department plays a central role in our "Attack V"
and other continuous improvement initiatives, with the goal of
making sure that our craftsmanship delights our customers and
convinces them to put their trust in us.
We strive to improve by continuously refining our quality, cost, and service.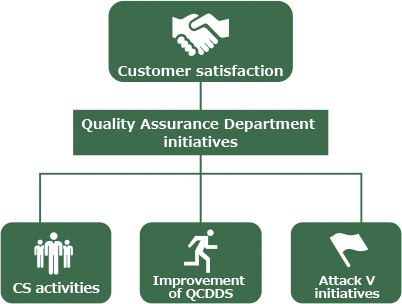 CS activities that prioritize customer satisfaction
As a manufacturing company, we aim to establish a CS (customer satisfaction)-oriented management system with the fundamental goal of creating satisfied customers.
This system is implemented through initiatives such as our Attack V and QCDDS improvement activities.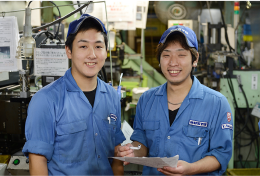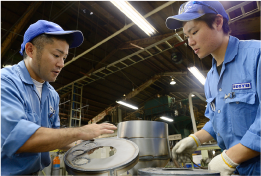 Establishment of a CS (customer satisfaction)-oriented management system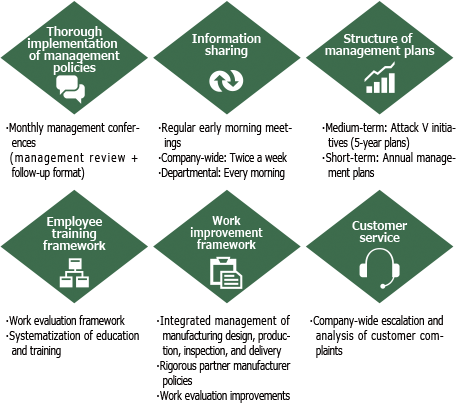 Quality Assurance Department initiatives
In order to consistently provide reliable products that delight our customers, we established a Quality Assurance Department to carry out our "Attack" and other quality initiatives.
Goals and plans for these initiatives are set at the beginning of
each fiscal year.
Goal for the current period
We are aiming for quality verification
(zero delivery time failures) by 2016.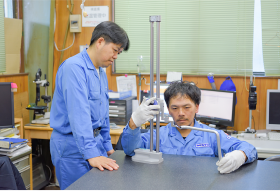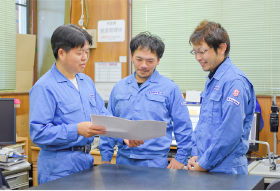 Basic Principles
1
Craftsmanship in our processes▶We aim to create mechanisms to prevent defects via jigs, tools, equipment, and error-proofing. We strive to build systems to guarantee operation and maintenance.
(3Z assurance activities)
2
Understanding that how we respond to a defective product can make or break a customer's trust, we identify the causes of defects by FTA analysis, and treat our defect countermeasures as something to be managed by means of process quality matrices, work standards documentation, written inspection standards, 3Z assurance revisions, and error-proofing.
3
For newly-ordered innovative products, we work in project teams to meet customer quality requirements based on pre-production quality assurance activities (supplier master schedules).
4
Day-to-day management▶We use verification mechanisms to ensure the required quality characteristics in the initial-, middle-, and end-stage products, and to measure our process capability (Cpk).
5
Training-related▶We strive to improve the skills and quality of our personnel to foster a "community of craftspeople". Priority management items are enforced repeatedly and routinely (at regular intervals). (Education and training)
6
We promote standardization of our work procedures, molds, jigs, and tools. (7 goals of standardization)
6-1▶Determine the correct way of doing a task.
6-2▶Standardize the work procedure so that it can be done the same way no matter who is doing it.
6-3▶Clarify the responsibility for each task so that the work proceeds smoothly.
6-4▶Make sure those who are new to the job are able to learn the correct way to do the work.
6-5▶Maintain skills and techniques, and ensure that the importance of these traditions is passed down in order to nurture the next generation of craftspeople.
6-6▶Clarify the contents of the work, and use this as an opportunity to further develop skills and techniques.
6-7▶Establish a "safety first" work environment that enables work to proceed safely.

QCDDS Improvements
To foster personal growth, we encourage continuous improvement in all operations, and we are never satisfied with the status quo.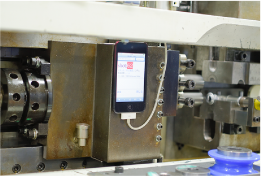 Quality
Perform QESE (Quality Environment Safety Engineering) on-site diagnosis.
Cost
Offer VA (Value Analysis) and、
VE (Value Engineering).
Delivery
Shorten production RT with a delivery compliance rate of 98%.
Development
Shorten development lead times and speed up responses to design changes.
Service
Respond quickly to customer concerns and complaints.
Aiming for the Japan Quality Award
The Japan Quality Award is an awards program that comprehensively evaluates a company's human resources, technology, intellectual property, and other capabilities on a 1,000-point scale.
Busyu Kogyo hope to earn a Japan Quality Award by exceeding the ISO evaluation criteria.
Steps towards award
・ Improve employee satisfaction
・ Transparency of salary system
・More full-time employment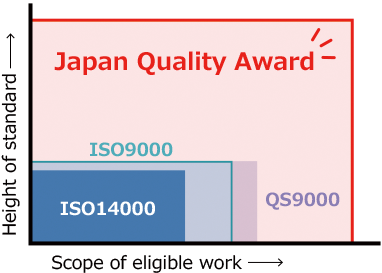 Busyu Kogyo continues to advance towards its goal of earning a passing mark of 600 points.
Previous Attack V Initiatives
Attack V initiatives (medium-term strategies)
To promote improvement activities,
we have been choosing a theme every five years since 1985,
with the goal of quality improvements that will lead to greater customer satisfaction.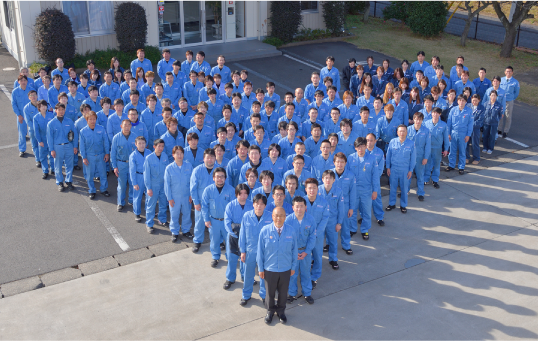 Meaning of the attack V logo

When our company president was a child, his father told him, "When you discard trash, first fold it neatly, out of consideration for the feelings of the person who will take it away." This is the way his father taught him to fold waste paper: Fold it so the length-to-breadth ratio is about 1:5, then repeatedly fold it over at 90-degree angles, and finally tuck it under. Beautiful!
Attack V55:"A company of craftspeople you can rely on"
Attack V60:"Providing service that leaves a strong impression"
Attack V65:"In the spirit of warm hospitality"
Attack V70:"Ethical Management"
We are pursuing manufacturing from the point of view of the people who use our products. Therefore, for the current period, we are re-thinking our "standalone" product assurance, and we are establishing in-process quality assurance systems while maintaining close communication with customers.
"Aim for A rank" is an important initiative to provide 100% assurance while we continue to enforce our 3Z assurance even more rigorously. We will continue to win customer trust in our products by building a framework to carry out in-process quality assurance during single-piece flow production, without unnecessarily increasing the number of man-hours devoted to our 100% assurance actions.

【Process assurance levels】

A rank
Automatic 100% inspection
without human judgment

B rank
Checks using jigs and tools

C rank
Visual checks
Previous Attack V Initiatives (medium-term five-year plans)
Attack V50 "Permanent cost reductions"
▶Permanent cost reductions
We assembled customer improvement teams and challenged them to find every way possible to reduce costs.
・Case study presentations held at Busyu Kogyo on mini equipment and double-duty production
・More in-house production of Busyu products
・Production with zero free time costs
・Zero defects, zero inventory,
time-shared delivery
・Review of production methods for
inventory minimization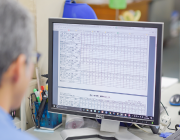 ▶Our Pursuit of Zero Defects and the "3 Zeroes Pledge"
To achieve waste-free, high-quality production, we collaborate with stakeholders to eliminate defects at every step.
1.CreateZeroDefects
General-purpose error-proofing* for small-lot production: We develop in-house equipment to eliminate assembly errors.
2.ReleaseZeroDefects
Easy-to-use information sheets for workers: We don't make defective products or pass defective products to the next work station.
3.AcceptZeroDefects
Elimination of defects in purchased parts: We don't accept defective products from vendors or suppliers.
*"Error-proofing" refers to systems and equipment used on the production lines of shops and factories to prevent operator errors.
Attack V55 "A company of craftspeople you can rely on"
▶A company of craftspeople you can rely on
We launched a series of "Six Zero" production activities based on self-planning and self-management.
Attack V60 "Providing service that leaves a strong impression"
▶Providing service that leaves a strong impression
Under the theme of "Providing service that leaves a strong impression", we strive to be a company that delights our customers and wins their trust.
・We will provide "service that leaves a strong impression" through our craftsmanship, based on the manufacturing techniques and production systems we have cultivated so far, with all employees reflecting on what they can and should be doing for the customer.
・We will be sure to provide service that satisfies everyone, including customers, partner factories, suppliers, and our own people.
・We will use the "balanced scorecard" system to promote transformation "from the quality of the goods to the quality of work" in order to deepen the integration between our daily activities and our ISO 9001 and ISO 14001 activities.