Company Overview
Company name
Busyu Kogyo Co., Ltd.
Established
1951
Capitalization
40 million yen
Location
Headquarters/Main Plant: 1-2-3 Suehiro-cho, Ome City, Tokyo
Murayama Warehouse: 2-59 Enoki, Musashimurayama City, Tokyo
Shinmachi Satellite Plant: 9-2221-2 Shinmachi, Ome City, Tokyo
Employees
155 people (122 men, 33 women)
Average age
35 years old
Business activities
Metal machining automotive parts Sheet metal, stamping, plastic processing, Automatic control equipment manufacturing
Pipegram BIMMS on AWS
Major customers
Construction machinery manufacturers, auto manufacturers, special vehicle manufacturers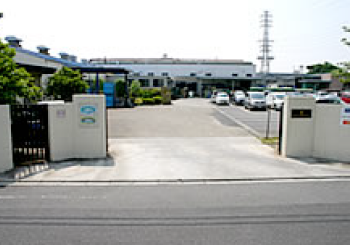 Headquarters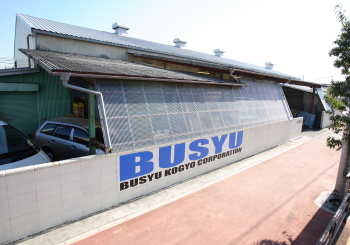 Murayama Warehouse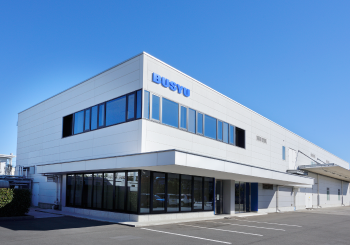 Shinmachi Satellite Plant
History
| | |
| --- | --- |
| December 1952 | Sheet metal factory founded in Musashi-murayama City |
| April 1956 | Japan Radiator Co., Ltd. opens for business (sheet metal, shrouds) |
| July 1957 | First radiator pipe orders accepted |
| August 1960 | Akishima plant established |
| August 1965 | Murayama plant established in Musashimurayama City |
| April 1970 | Head office and Ome plant established in Ome City |
| July 1975 | Ome plant expansion |
| | |
| --- | --- |
| June 1980 | 500-ton deep drawing press begins operation |
| February 1981 | First air conditioning pipe orders accepted |
| May 1982 | Business with Nissan Motors begins |
| April 1983 | Kickoff of "Attack V35" initiative |
| April 1984 | Introduction of NC bender |
| February 1987 | First aluminum heating pipe orders accepted |
| April 1987 | Kickoff of "Attack V40" initiative |
| June 1987 | Switch is made to single-piece flow production lines |
| October 1987 | Introduction of personal computers (SORD-PIPS system) |
| April 1992 | Kickoff of "Attack V45" initiative |
| March 1989 | 3-dimensional laser begins operation |
| April 1997 | Kickoff of "Attack V50" initiative |
| October 1999 | Introduction of 3D CAD (TOP SOLID) |
| November 2000 | ISO QMS 9002:1994 edition certification |
| | |
| --- | --- |
| April 2001 | TAMA Association EDI network project participants |
| February 2002 | Industry-university cooperative research with Hosei University (scheduling) |
| April 2002 | Kickoff of "Attack V55" initiative |
| November 2003 | ISO QMS 9001 certification updated to 2000 edition |
| April 2004 | Sankyo Radiator Co., Ltd. opens for business |
| June 2005 | TRAD Co., Ltd. opens for business |
| March 2006 | Introduction of 3D CAD IDEAS |
| May 2006 | ISOQMS 14001:2004 edition certification |
| February 2007 | Received Sano City award for contributions to local industrial development |
| April 2007 | Kickoff of "Attack V60" initiative, introduction of BSC |
| December 2007 | Installation of NEDO grant 20kW solar power system |
| September 2008 | Introduction of R-axis precision laser pipe cutting machine |
| June 2009 | Subsidy from National Federation of Small Business Associations, development of small-diameter hydroforming machine |
| December 2009 | ISO 9001 certification updated to 2008 edition |
| February 2010 | "Busyu-style single-piece flow production" featured in Nikkei Shimbun |
| March 2010 | First place in EDIMAS magazine's 2009 factory search access rankings |
| April 2010 | Award for "Delivery Quality Excellence" from Sankyo Radiator Co., Ltd. |
| July 2010 | Development of variable bending radius pipe machine sponsored by Ministry of Economy, Trade and Industry |
| March 2011 | Special Encouragement Award for Excellence, Tokyo Credit Union Association |
| April 2012 | Kickoff of "Attack V65" initiative, promotion of ES activities |
| March 2013 | March 15 Shinmachi satellite plant completed |
| January 2014 | Received Grand Prize at Tokyo Business Design Awards |
| February 2014 | Winner of Eco-Power Award from the Japan Association of Environment and Society for the 21st Century (JAES21) |
| November 2014 | Pipegram wins Good Design Award |
| January 2015 | Pipegram wins Good Design Award |
| June 2015 | Pipegram wins 2015 Good Toy Award |
| October 2015 | Selected, Top 100 Proactive IT Management |
| December 2015 | Winner, Tama Green Excellence Award |
| January 2016 | Regional Contribution Award from Nikkan Kogyo Shimbun |
| January 2016 | Selected for "300 Successful Small and Medium-Sized Enterprises" |
Company Policy
Company Policy
We are a company that strives to improve the workplace by promoting creativity, enthusiasm, and harmony among our people. We aim to earn our customers' trust and inspire our employees to find satisfaction in their work.
Basic Quality Policy
We want to ensure customer satisfaction and provide reliable products that delight each customer, every time.
Contributions to Society
Regulatory compliance:Recognition of superior corporate tax filing
"Industrial patriotism" is a way of life in Japan, and paying our taxes is a fundamental part of our business activities. We are one of two companies out of 2000 in the Tachikawa Corporate Taxpayer's Association that have been honored seven times, or once every five years, for our outstanding record of tax payments, with no losses, since 1968.
Contributions to Society:Highway clean-up activities (daily since 1998)
(daily since 1998)
To fulfill our civic and corporate responsibilities,
we engage in various work-related social activities based on our "Attack V" initiatives.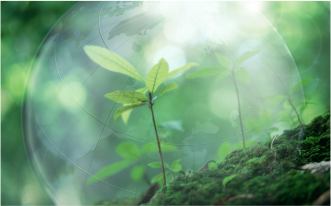 Environmental Philosophy and Basic Environmental Policy
Environmental Philosophy
Busyu Kogyo aims to pursue its business activities in an environmentally sustainable manner, and encourages all of its employees to use their creativity and ingenuity to develop sustainability initiatives. Our philosophy, as a member of the local community, is to emphasize positive social relations while serving the community through manufacturing.
Environmental Policy
As we engage in metal pipe machining and sheet metal processing, and as we develop, produce and sell products, we prioritize protection of the environment and promote economic development through the following activities.

Recognizing the environmental impact associated with our activities, products, and services, we will continue, as much as possible, to prioritize environmental sustainability, to set environmental goals and objectives, and to prevent pollution. We seek to continually improve our methods of promoting the three environmental Rs (reduce, reuse, and recycle).
All employees undergo environmental awareness training and learn the principles of environmental sustainability. We also ask our partner companies for their understanding and cooperation in these efforts.
We strive to build healthy relationships with the local community by actively participating in local environmental sustainability initiatives.
We work to preserve the environment by complying with relevant laws, regulations, ordinances and other requirements, and to the extent possible, by developing our own voluntary technical and economic standards and rules.
As a production plant, we will continue to work to reduce productivity loss and failure, cut paperwork, and take other efficiency measures.
This environmental policy is released to everyone who works at our company or on its behalf, as well as to the general public.