We have the equipment to support advanced engineering techniques.
In addition to various types of standard machine tools and equipment,
we are fully equipped with custom-built equipment and error-proofing devices to support our single-piece flow production system.
Major Equipment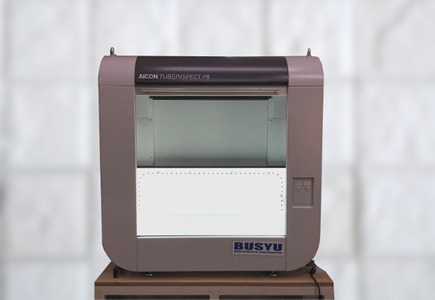 Switch bender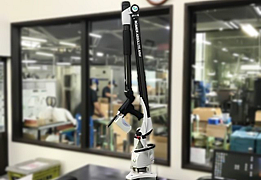 Three-dimensional laser-scanning measurement machine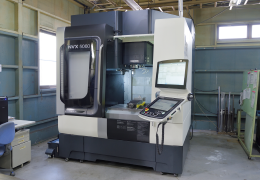 Machining center
Equipment developed in-house
For efficient, high-quality production, we frequently develop our own equipment.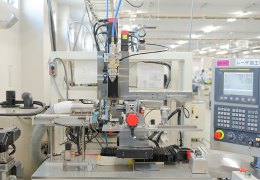 Laser cutting machine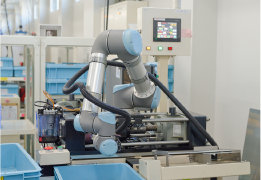 Terminal machine (robot)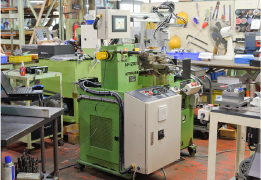 NC retrofit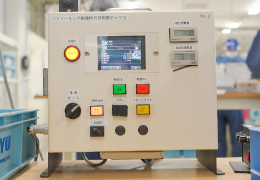 UV marking image inspection machine control box
▶Mini-equipment
This is mainly pipe bending equipment and jigs that we design and manufacture in-house, giving us the flexibility to develop prototypes with a variety of shapes and applications. In addition to equipment for bending and squeezing, we increasingly produce even our own automatic control equipment in-house. This helps us improve productivity by automating the accumulated knowledge of our skilled craftspeople.

▶Single-piece flow production equipment
Our single-piece flow production equipment is built on a somewhat smaller scale than the standard 80 cm width, to enhance the technicians' work efficiency. When developing and maintaining the equipment, we carefully assess its cost-effectiveness and make sure it provides only the required functionality, no more and no less.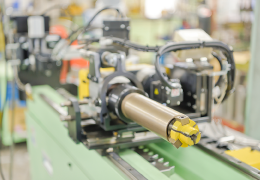 Bender
Laser marking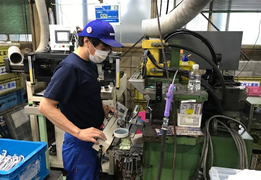 Mini-equipment for single-piece flow production
Manufacturing & Maintenance
▶Machinery and equipment list
Equipment name
Number
Stamping and sheet metal processing
4kW CleanCut laser
1
3-dimensional laser
1
Hydraulic press, 500t
1
Power press, 12t~150t
3
Press brake, 25t, 35t, 75t
3
Shearing machine
1
Corner notcher
1
Robot welder
1
Set press
3
Iron worker, 6×75L
1
Angle bender, 6×50
2
Spot machine 15kW~55kW
5
Arc welding machine, 300~350
1
Argon welding machine, 300A
2
Electrostatic painting equipment
1
Oxygen welding equipment
4
Equipment name
Number
Pipe machining (aluminum HP/AC)
NC bender, 8~40mm
17
Hydraulic bender, 25 mm
6
Terminal machine
24
Terminal cutting machine
6
Automatic pipe roll cutting machine
2
Manual pipe cutting machine
2
Automatic brazing machine
6
Automatic TIG welding machine
4
Oxygen welding machine
6
TIG溶接機
1
Automatic power press, 35t
1
Air press, 2t
4
Daphne vacuum cleaner
4
Small milling machine
1
Automatic lathe
2
Chamfering machine
5
Robot bending machine
1
Air leak detector
6
Water test equipment
1
Crimping machine (with sensor)
3
Compressor
1
Drying machine
1
Soap cleaning equipment
1
Equipment name
Number
Pipe machining (WP/RP/intake)
NC bender, 25?40mm
6
Terminal machine
12
Small lathe
2
Welding robot (CO2 and TIG)
2
Automatic TIG welding machine
3
Arc welding machine
2
Oxygen welding equipment
5
Air leak detector
5
Pipe machining
(aluminum, brass, iron/HP/RP/intake)
Hydraulic bender 100t
1
Press machine, 15t~25t
12
Auto/manual pipe cutting machine
2
Hydraulic bender
3
Manual bender
3
NC bender, 10~30 mm
4
Terminal machine
3
Oxygen welding machine
6
Lathe-cut hot water cleaning equipment
1
Jet drying furnace
1
Annealing furnace
1
Water test equipment
1
Air leak detector
3
Hydraulic high-pressure test equipment
1
Argon welding machine
2
Robot welder
4
Equipment name
Number
Design and development
Three-dimensional CAD
3
Two-dimensional CAD
5
Machinery and tool
Machining center
1
NC milling machine
2
NC lathe
1
Automatic milling machine
1
Lathe
2
Plane grinding machine, 600
1
Partner manufacturers
Laser welding machine
2
Electron beam welding machine
5
Brazing furnace
3
Water jet cutting machine
3